JAKARTA AIRPORT (CGK) INFORMATION
Origin
Airline
Flight no.
Scheduled
Est./Actual
Status
No flight arrivals were found at Jakarta Airport.
Destination
Airline
Flight no.
Scheduled
Est./Actual
Status
No flight departures were found at Jakarta Airport.
Car Hire at Jakarta Airport
UNBEATABLE VALUE CAR RENTAL
Free Amendments | Free Cancellations | No Card Fees




Jakarta Airport - All Information on Jakarta Airport (CGK) Jakarta Airport
Tangerang City, Banten 19120, Indonesia
phone +62 21 550 5179
phone+62 21 550 5179 (Lost + Found)
call_end+62 (0)21 550 2141 (fax)
Facts and History about Jakarta Airport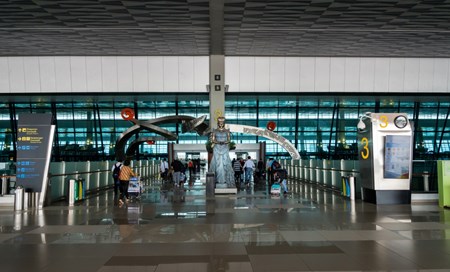 Jakarta Airport (IATA: CGK), officially known as Soekarno-Hatta International Airport, is the primary airport servicing the Jakarta metropolitan region on the island of Java in Indonesia. It's roughly 20 kilometers northwest of Central Jakarta. The airport bears the names of Indonesia's first president and vice president, Sukarno, and Mohammad Hatta, respectively.
Since its domestic operations began in 1985, the airport has been used to replace the older, overcrowded Kemayoran Airport. After a significant expansion in 1991, this airport took over international flights from Halim Perdanakusuma International Airport, which is still used for domestic charter, VIP, and private aviation.
Jakarta Airport is a sizable, expansive facility with one new terminal (T3), two older terminals (T1 and T2), and a free SkyTrain that connects them all. The T1 primarily handles domestic flights and comprises three sub-terminals: A, B, and C. Both local and international flights are served by T2, which has three sub-terminals (D, E, and F).
The cutting-edge T3 serves both local and foreign flights. There are various dining and shopping options available at all three terminals. However, T3 has the most significant number of shops. Wi-Fi is provided to keep you entertained. One of the airport's first-class lounges can be accessed for a fee and offers additional comforts, such as showers.
Transfer Services at Jakarta Airport
Taxis, buses, and rental cars are all available as ground transportation alternatives at Jakarta International Airport. Since taxis are affordable and convenient (they pick you up and drop you off at your door), they are the ideal mode of transportation for most vacationers.
For those on a tighter budget, taking the bus is a convenient and affordable choice for getting around town. If you'd want the flexibility of exploring at your own pace, you can rent a car.
Rental Car Services at Jakarta Airport
If you're flying into Jakarta, you may pick up a rental car from several agencies. Stop by and see them in the terminal's Arrival Halls, not far from where you'll collect your luggage. All the major vehicle rental agencies are here, making it simple to compare prices and select the best one for your travel needs.
On business or pleasure trips, you can use the services of one of the many executive car rental agencies that provide high-end automobiles and chauffeurs. You can also hire a driver from these businesses to take care of transportation needs in Jakarta.
Those who like to go at their leisure will find many self-drive alternatives in Jakarta. You can easily navigate the city thanks to the GPS devices and maps of all the leading car rental agencies.
See and compare all car rental companies at Jakarta Airport
Taxi Services at Jakarta Airport
Taxi services at Jakarta International Airport are varied to accommodate passengers of different preferences. A taxi is the least expensive option, costing between IDR 150,000 and IDR 200,000. Prices in a taxi begin at IDR 7,500. See more information about taxis at Jakarta Airport.
Blue Bird, Silver Bird, and Express provide metered and climate-controlled airport taxis. Guests can reserve a taxi service via the hotel's website or front desk in advance.
Train Services at Jakarta Airport
Every day of the week between 4 am and 12 am, a complimentary Skytrain travels between all three terminals every 20 to 30 minutes. The Skytrain stops, and a sky bridge connects Terminals 2 and 3.
The Airport Rail Service connects the airport to downtown Jakarta for IDR 70,000 one way (Sudirman Baru or BNI City Station). Airport Railway Station is accessible by the Skytrain.
The train departs every 30 minutes between 6 am and midnight. At BNI City Station, travelers can take the modern MRT, a commuter train, or a bus to get to their destination.
Bus Services at Jakarta Airport
Depending on traffic, the trip from Jakarta Airport to the city center on the DAMRI Airport express bus will take about 90 minutes. This is the most cost-effective method of reaching the heart of Jakarta, costing only IDR 40,000. More information about buses to and from Jakarta Airport.
Whether you're arriving at Terminal 1, Terminal 2, or Terminal 3, the bus will be waiting for you outside the Arrivals area. Services start at 5 a.m. from the airport to Gambir Station.
Hotel Shuttle Services at Jakarta Airport
Hotel shuttles are offered at Jakarta International Airport. There are a lot of hotels near the airport that provide a shuttle service. Since the airport either provides or approves the buses, you may trust them.
The shuttles are immaculate and comfortable so riders can travel worry-free to their destinations. Shuttles may be found at Terminals 1, 2, and 3's Ground Transportation Center.
To find out if the hotel you're interested in offers a shuttle service, please visit our hotel page.
Rideshare Services at Jakarta Airport
Ridesharing services like Uber and Grab may pick you up at Jakarta Airport. You'll need to download the apps and sign up for an account before using them. The next step after signing up is to complete the form with your basic information.
Having provided your information, you may request a ride. When calling for a ride, provide your destination so the driver knows where to go.
Parking Services at Jakarta Airport
There are both short-term and long-term parking options at Jakarta Airport. Depending on your specific requirements, several solutions are available to you.
Short-term and long-term parking spaces are available at the three main car parks in the Public Parking Area of Terminals 1, 2, and 3. The building is protected by security guards and surveillance cameras that operate around the clock.
For further information, please see our parking page.
Other Services at Jakarta Airport
At Jakarta Airport, you'll find information on services and facilities available inside the airport, including details about airport lounges, Wi-Fi, mobile charging points, lockers, 24-hour food options, nearby hotels, and everything in between. The airport also provides self-service kiosks for check-in and baggage drop-off.
Disabled Passengers at Jakarta Airport
Jakarta Airport introduced a new system for handling disabled passengers. The system includes a dedicated check-in counter and special assistance from trained staff. The airport can now provide a better experience for disabled passengers and ensure their needs are met.
Wi-Fi at Jakarta Airport
Free, limited Wi-Fi is available at Jakarta Airport. Connect to the "freewifi.cgk" network.
Baggage Claim at Jakarta Airport
The baggage claim is on the first floor of the main terminal building. Please check the display boards above each carousel for information on which airlines are using which carousels. Once you have located your airline's carousel, please wait nearby until your luggage begins to appear. Once all your luggage has been unloaded from the plane, it will be sent down a conveyor belt to the appropriate carousel.
Please do not open any bags or containers that may have been damaged during transit, as this may cause further damage. If you need assistance locating lost or damaged luggage, please visit one of the customer service desks in either baggage claim lane.
Information Desk at Jakarta Airport
Please contact the information desk if you have questions or need help at Jakarta Airport. Its friendly staff will be happy to assist you with anything you need. From directions to your gate to recommendations for things to do in the city, we can help make your travel experience as smooth and enjoyable as possible.
Smoking at Jakarta Airport
Smoking is not allowed inside the airport terminal, but there are designated smoking areas outside the terminal. These are usually located near the entrance/exit of the terminal building. Please be mindful of other passengers and refrain from smoking in areas not designated for smoking.
Lost and Found Section at Jakarta Airport
The lost and found section at Jakarta airport is a great place to go if you have lost something while traveling. They have various items turned in by other travelers and are always willing to help you find what you are looking for. If you have any questions, they will be more than happy to answer them.
Restrooms at Jakarta Airport
Restrooms at Jakarta Airport are well-maintained and offer good amenities for travelers. There are plenty of toilet paper and tissues, as well as soap and hot water. The floors are clean, and there is no foul odor.
Nursing Mothers Station at Jakarta Airport
Jakarta Airport has a particular nursing mothers station for breastfeeding mothers. It provides a comfortable and private space for mothers to breastfeed or pump milk. The station has a sink, changing table, and electric outlets. It also has a television so mothers can relax while nursing their babies.
ATMs at Jakarta Airport
If you arrive at Jakarta airport, you'll be able to find plenty of ATMs where you can withdraw cash. However, it's always a good idea to have Indonesian currency on hand before arriving, as airport rates can sometimes be slightly higher. There are also money changers at the airport, but the rates may not be as favorable as what you'll find in town.
Currency Exchange at Jakarta Airport
Jakarta airport has currency exchange offices and banks that offer competitive rates for exchanging money. However, checking the latest rates before exchanging any money is always advisable.
The best place to exchange money is at one of the many banks or ATMs throughout the airport. You can also find plenty of places to change your money in the city center, but the rates may not be as good.
Food and Beverages at Jakarta Airport
Jakarta airport offers a wide variety of food and beverage options for travelers. Several restaurants and cafes are located throughout the airport, and a few fast-food options. Travelers can find anything from Indonesian cuisine to international favorites at the airport. Several bars are located throughout the airport so travelers can enjoy a drink before their flight.
Shopping at Jakarta Airport
Shopping at Jakarta Airport duty-free is a great way to save on travel expenses. The prices are significantly lower than in other places, and the selection is excellent. There are many duty-free shops at Jakarta Airport, so it is easy to find one that sells what you are looking for.
Pet Relief at Jakarta Airport
Jakarta Airport has a designated pet relief area for animal owners traveling through the airport. The pet relief area is in the public area of the terminal building. Passengers must present their boarding pass and ID to use the pet relief area.
Ticketing Services at Jakarta Airport
Jakarta airport offers a wide range of ticketing services to make your travel experience more convenient. You can purchase tickets online or at the ticket counter. If you need assistance, there are customer service representatives available to help you.
History of Jakarta Airport
Due to its proximity to the more significant Halim Perdanakusuma military airfield, Kemayoran Airfield was deemed insufficient for expansion from 1928 until 1985. Combined with the region's rapidly expanding air traffic, the area's shrinking civil airspace became a significant obstacle for intercontinental flights. These worries were first voiced during a Bangkok gathering of senior communication officers in 1969.
Kemayoran, Malaka, Babakan, Jonggol, Halim, Curug, South Tangerang, and North Tangerang were among the eight places considered for a new international airport in the early 1970s with assistance from USAID. Finally, the location in North Tangerang was decided upon, with the possibility of using Jonggol as an alternate airport.
Meanwhile, the Halim Perdanakusuma airstrip in Indonesia has been refurbished for passenger usage by the government. Following its closure in 1985, the former Kemayoran property was used for retail and residential development.
Canadian firms Aviation Planning Services Ltd., ACRESS International Ltd., and Searle Wilbee Rowland (SWR) formed a team that submitted the winning bid for the new airport feasibility study in 1974 and 1975. Initial work on the feasibility study began in 1974.
About Jakarta, Indonesia
Greater Jakarta area, also known as Jakarta or Jabodetabek (an acronym for Jakarta, Bogor, Depok, Tangerang, and Bekasi), and sometimes Jabodetabekjur (when the abbreviation is extended to include part of Cianjur Regency) or Jabodetabekpunjur (when the acronym is further expanded to include Puncak and the Cipanas district), is Indonesia's most populous urban area.
It consists of the nation's capital (Jakarta Special Capital Region), three full regencies, and five smaller cities. The region consists of the Jakarta Special Capital Region, as well as the regencies of Bekasi and Bogor in West Java and Tangerang in Banten. Cities like Bogor, Depok, Bekasi, Tangerang, and South Tangerang that are not administratively part of the regencies are also included in this region.
According to the Indonesian 2020 Census, the metropolitan area of Jakarta had a population of 31.24 million. It covered an area of 6,437.68 square kilometers, making it the most populous region in Indonesia and the second most populous urban area in the world after Tokyo.
Indonesia's government, cultural, educational, and economic activities revolve around this area. Many people have relocated to this area from across Indonesia for better opportunities. As the country's most important financial, manufacturing, and commercial hub, the Jakarta metropolitan area is a significant economic power.
According to 2019 estimates, the region's GDP is $297.7 billion, with a per capita GDP of $8,775.00, and its PPP GDP is $978.5 billion, with a per capita PPP GDP of $28,840. This represents 26.2% of Indonesia's total economy.
Weather in Jakarta, Indonesia
Jakarta has a hot, humid, and cloudy climate. Temperatures rarely drop below 72 degrees Fahrenheit or rise over 94 degrees Fahrenheit throughout the year. Hot-weather activities in Jakarta are best experienced between the beginning of June and the beginning of October.
Because of how little the weather fluctuates in Jakarta, discussing the hot and cold seasons is mainly academic. The probability of rainy days in Jakarta varies significantly from season to season.
The six-month wetter season begins in October and ends in May. On average, January has 23 rainy days in Jakarta. From May till October, the weather is drier than usual. August is the month with the fewest rainy days on average in Jakarta, with only six days of precipitation recorded.
While the temperature may decrease at night, a humid day is usually followed by a muggy night because the dew point changes more slowly than the temperature.
When considering the amount of time that residents of Jakarta report feeling muggy, oppressed, or unhappy due to the humidity, we find slight seasonal variation.
Useful Contact Details
Jakarta can be an overwhelming city for first-time visitors. With a population of over 11 million people, it is the largest city in Indonesia and one of the most populated cities in the world.
Jakarta is a bustling metropolis with a rich history and culture. While it can be chaotic and congested, this vibrant city has many things to see and do. Here are some tips for first-time visitors to Jakarta:
Get acquainted with the city layout before you go. Jakarta is divided into five main areas: Central Jakarta, North Jakarta, South Jakarta, West Jakarta, and East Jakarta. Each region has its distinct character and attractions. Familiarizing yourself with the city's layout will help you make the most of your time in Jakarta.
Use public transportation whenever possible. Traffic in Jakarta can be terrible, so using public transport is often the best way to get around. The Jakarta Mass Rapid Transit (MRT) system is new and efficient, making it an excellent option for getting around central Jakarta.
Indonesia National Emergency Phone: 112
Suppose you are in a medical or police emergency in Jakarta, Indonesia. In that case, there are a few things you can do to ensure your safety and the safety of those around you.
First, if possible, try to find a safe place away from the immediate area of danger. If you cannot do this, try to remain calm and avoid panicking.
Second, call for help using a local or international emergency number (112).
Be sure to give as much information as possible about your location and the nature of the emergency.
Finally, follow any instructions given by medical or police personnel.
Hospital
Address: Jl. Metro Duta Kav. UE Pondok Indah, Jakarta Selatan, DKI Jakarta 12310
Phone: 021-765 7525
Police Station
Pos Polisi Kebon Baru (Kebon Baru Police Station)
Address: QV56+CV Kebon Baru, South Jakarta City, Jakarta, Indonesia
Phone: +622183701374
Jakarta Airport Contacts
Address: Tangerang City, Banten 19120, Indonesia
General Phone: +62 21 550 5179
Lost and Found Phone: +62 21 550 5179
Information Desk: +62 21 550 5179
Official website: https://soekarnohatta-airport.co.id
Local Information
Drive on: Left
Electricity: 230V/50Hz
Plug: C, F
Currency: Indonesian rupiah, IDR, Rp
Wi-Fi at Airport: Wi-Fi connection is available at Jakarta Airport. Connect to the "freewifi.cgk" network.
Services at Jakarta Airport
Useful Information about Jakarta Airport