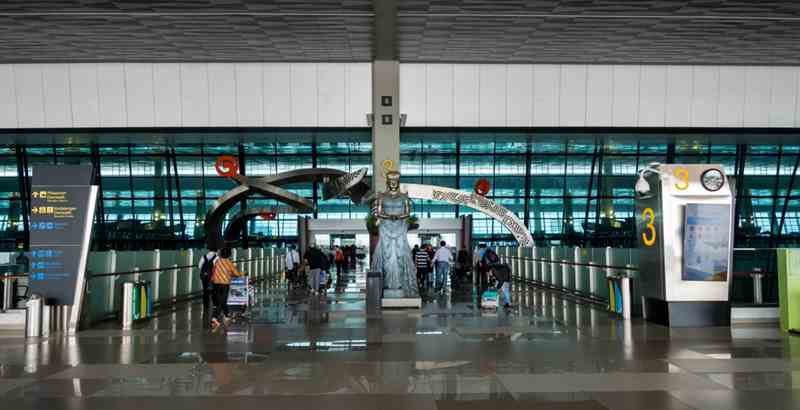 Jakarta Tourist Attractions
Jakarta, the nation's capital and largest city, is a fantastic place to visit if you want to taste the finest that Indonesia offers as a vacation destination. The city is home to many tourist destinations, including art museums, historical landmarks, and art galleries.
In addition, Jakarta is an excellent location to go shopping for souvenirs and Indonesian handicrafts. And if you want a taste of the bustling nightlife that Indonesia is known for, Jakarta is the place to be.
Suppose you consider extending your stay in any part of this beautiful archipelago. You might want to investigate the various possibilities presented on our partner's website at getyourguide.com.
When visiting Jakarta for tourism purposes, it is essential to consider a few things to make the most of your trip:
Be sure to research the city and its attractions ahead of time so that you can plan your days accordingly.
Be aware of your surroundings and take precautions against pickpockets and other petty criminals.
Don't forget to try some of the local cuisines.
Jakarta: Old Batavia Guided Coach Tour
Walking through the streets that make up Jakarta's historic area, you will see buildings built in the Dutch style as early as the 17th century. As you ride in a comfortable minivan with air conditioning, you will make stops at the National Museum, Kota Intan, and Jakarta's Chinatown to understand the city's history.
Take advantage of the convenience of having a pick-up service at your Jakarta lodging location. Pay a visit to the National Museum to view the collection of items gathered from the city's various ethnic groups.
The museum represents the Hindu-Javanese period with various artifacts, including beautiful bronzes, model dwellings, and musical instruments. In addition, the museum features an outstanding collection of Chinese pottery and stone artifacts taken from Central Java temples.
Visit Glodok, often known as Chinatown, in downtown Jakarta and a bustling center for banking, trading, and entertainment. Make a detour to visit the Chinese temple in Petak Sembilan, devoted to Kuan Yin, the Buddhist goddess of Mercy.
Your tour guide will educate you on the history of the Chinese community in Batavia.
Get to the Jakarta History Museum as soon as possible (Fatahillah Museum). The museum is in the historic town hall of Batavia, which serves as a visual reminder to visitors of the period when Indonesia was a Dutch colony.
Keep on until you reach the Wayang Museum and go through their collection of Javanese puppets. After that, you will need to drive over the Kota Intan Drawbridge, Jakarta's final drawbridge.
Pay a visit to Sunda Kelapa Harbor, formerly Jakarta's hub of marine trade. During the time of the colonial settlers, the name "Roads of Batavia" was given to the harbor since it served as the city's sole entry point. After exploring the port, you'll be driven back to the hotel.
Jakarta: Bogor Cultural Tour with Botanical Gardens Visit
The journey will begin with a pick-up from your accommodation in Jakarta. After that, it will be time to get away from the hustle and bustle of the city and travel out into the calm countryside as you make your way to Bogor, located nearby.
Take in the breathtaking scenery throughout the trip and get a glimpse of a different side of Jakarta that you might not have seen if you had stayed in the city.
Your first stop of the day is Bogor's stunning botanic gardens located at the heart of the city. The Dutch opened their world-famous gardens to the public in 1817. Their grounds spanned a total area of approximately 34 hectares.
Early researchers utilized these gardens to cultivate a wide range of products, including tea and tobacco. The park remains a significant hub for botanical study in Indonesia.
Follow that up by paying a visit to one of the extremely few gong smiths still operating in Indonesia and observing how the time-honored methods are still used today. Gain an understanding of how the instruments are melted over a fire and battered by hand, a procedure that takes several weeks to complete to produce only one gong.
After the gong smiths, immerse yourself in the traditional Kampung way of life at a local handcrafted puppet souvenir shop. Follow the twisting lanes of Kampung to discover the store and appreciate the incredible selection of wooden puppets on display from the factory.
Jakarta: Like a Local Customized Guided Tour
Discover the city with a welcoming local who is enthusiastic about their hometown and willing to give all the insider information and recommendations that will enable you to get the most out of your visit.
Gather where you will be staying so that you may become acquainted with the surrounding area, learn about the best places to eat and buy groceries, the simplest ways to move around, and the hidden treasures you may have overlooked.
You will feel more confident in navigating the city when the trip ends. You will be sure you have all the information required to make the most of your time here.
The local tour operator will get in touch with you after they have received your booking to confirm all the specifics for the trip, such as the place and time of the meeting, the language, and your contact information, and also to ask you some questions to get to know you better.
After that, the ideal neighborhood establishment that caters to your preferences will be chosen specifically for you. You will have complete control over the details of each trip, including where and when you want to begin, how long it should last, and how long it should be (minimum: 2 hours).
To navigate the city while on the walking tour, you can choose between utilizing the local public transportation system or hailing a taxi (at your expense).
The local guides are residents of the area who are enthusiastic about their city and enjoy meeting new people and discussing the aspects of their hometown they appreciate the most.
They are not professional tour guides and only conduct these tours on occasion, which results in an experience that is genuine and individual, much like having a buddy show you around their hometown.
You'll get to know each other more personally, learn about cultural differences, local events, and politics, and learn what it's like to live in the city through chats with your local guide.
If you participate in this adventure, you won't only be traveling through the city. You are going to be a part of it.
From Jakarta: Yogyakarta, Borobudur, Bromo, Ijen & Bali Tour
On this multi-day guided excursion from Jakarta, explore Java Island's untouched beauty and diversity. Explore stunning scenery, trek to volcanoes, visit significant temples and indulge in mouthwatering regional food. Visit notable locations like Yogyakarta, Borobudur, Bromo, and Ijen over seven days, along with lesser-known jewels.
Day 1: Your tour guide will meet you at Jakarta Airport to begin your experience. As you travel to your Jakarta lodging, get in a relaxing car with air conditioning. You will have time to recuperate and prepare for the tour the next day once you check into the hotel.
Day 2: Discover all the highlights Jakarta has to offer. Visit historical sites, local marketplaces, and areas like Chinatown. You'll be taken back to the hotel once your journey is over.
Day 3: Take the train from Jakarta to Yogyakarta on the third day, a significant hub for Javanese art and culture. On the train, take in the stunning scenery and attractions. When you get to Yogyakarta, go to your accommodation to unpack.
Day 4: Get up early and go to Setumbu Hill to see the magnificent sunrise over Borobudur. The most prominent Buddhist building on earth, Borobudur Temple, is then open for exploration. Following this, you can relax at the hotel or explore more of Yogyakarta's attractions.
Day 5: Drive to Mount Bromo from Yogyakarta. Once you've found a place to stay, you can relax and take advantage of some free time to explore the neighborhood before the next morning's spectacular sunrise.
Day 6: Get up early and prepare for Mount Bromo's breathtakingly spectacular sunrise views as you visit Indonesia's most well-known volcano. Breakfast should then be enjoyed at the hotel before departing for Bondowoso City, where you're lodging for the Ijen Crater trip.
Day 7: Your final day begins with a climb to the Ijen Crater at midnight. Reaching the summit will take you between 90 and 120 minutes. There, you can see blue flames rising from the crater. The tour will close when you are dropped off at your Bali lodging.
10 Asian Regions: eSIM Data Plan
Using a hassle-free eSIM throughout your time in Asia will make your trip that much more enjoyable. Maintain your connection while away from home with high-speed service available in 10 countries around Asia, including Thailand, Vietnam, Singapore, China, Hong Kong, Macau, Taiwan, South Korea, Indonesia, and Malaysia.
You can purchase and install your eSIM whenever and wherever you like. You can pick and choose from a variety of data packages, options for validity, and coverage in more countries. To access all your necessary apps when you are away, you scan the QR code on the eSIM.
Using this technique, you won't have to worry about the hassle of handling many SIM cards. You will need one eSIM for each device, and you may add more eSIM plans by simply purchasing them and activating them. After being triggered, your coverage will begin under the duration that you have chosen.
eSIM compatibility is built into every iPhone model released after the iPhone XS. If you are confused about whether you are eligible for Android, please check the eligibility guidelines photo.
If, after installing this eSIM, you cannot establish a connection to the internet, please refer to the Self-Help Troubleshooting Guide contained within your GYG voucher.
UNBEATABLE VALUE CAR RENTAL

FREE
Amendments,
FREE
Cancellations,
NO
card fees!

airport_shuttle Need Airport Transfers?
Useful Information about Jakarta Airport